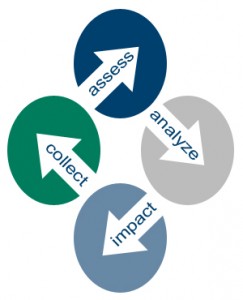 Outcomes assessment is an ongoing process aimed at measuring and improving student learning. It involves making our expectations explicit and public; setting appropriate criteria and high standards; systematically gathering, analyzing and interpreting evidence to determine how well performance matches expectations and standards; and using the resulting information to document, explain and improve student learning.
Assessment helps us create an academic culture dedicated to assuring and improving the quality of teaching and learning.
For assessment related questions, please contact Dr. Michelle Paranto, Dean of Curriculum, Instruction and Assessment at 978-630-9487 or via email at mparanto@mwcc.mass.edu.