Educational, Inspirational and Fun Courses for All Ages Register Today!
MWCC offers noncredit courses that enhance your skills, hobbies, work, and personal life. Choose from classes offered days, evenings, or online. No grades or exams (except for licensure courses)! A noncredit course does not offer credit toward an academic degree. Most take these courses to enhance their skills or for recreational purposes. You can learn to use your digital camera, learn how a computer program would help you get ahead at work, you can even learn how to play a musical instrument. We also offer courses to help you grow your business, enhance employees skills and maintain customers.  Click to see our new courses coming this Winter and Spring !
New Winter/Spring Courses
Come on Get Happy (What Your Soul Needs to Know)
Guide to the Galaxy
Auras and Chakras
Gallery Style Readings
Titantic: Local History 108th Commemoration
Titantic: Movie History & Variations
Titantic: Local History: Parnormal & Ghost Folklore
Discovering Your Purpose in Life
Watercolor Florals
Adult Sewing
Click here for Spring Catalog pdf copy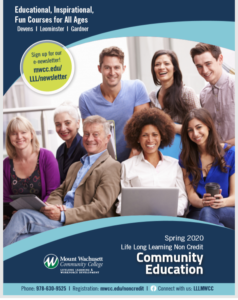 Interested in teaching a noncredit course?
We are always looking for great instructors.
Apply to Become a Noncredit Instructor