Due to COVID-19 all Life Long Learning/Community Education courses are being postponed until 4/30. Thank you for your patience. 
Educational, Inspirational and Fun Courses for All Ages Register Today!
Due to COVID-19 all registrations are currently being wait-listed. Wait-list does not indicate the class is full. To reserve a seat, add your name and contact information to the wait-list and we will let you know when the course get rescheduled. Thank you for your patience. You can still call us at the office 978-630-9525.
MWCC offers noncredit courses that enhance your skills, hobbies, work, and personal life. Choose from classes offered days, evenings, or online. No grades or exams (except for licensure courses)! A noncredit course does not offer credit toward an academic degree. Most take these courses to enhance their skills or for recreational purposes. You can learn to use your digital camera, learn how a computer program would help you get ahead at work, you can even learn how to play a musical instrument. We also offer courses to help you grow your business, enhance employees skills and maintain customers.  Click to see our courses coming this Spring and adult Summer too !
Click here for Full Spring Catalog pdf copy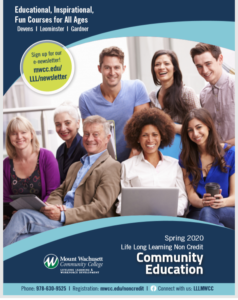 Interested in teaching a noncredit course?
We are always looking for great instructors.
Apply to Become a Noncredit Instructor