South Street Elementary School 
Teams Launched to Date:
2017 – 2018
The Venture Kids
This whole-school Venture Team, led by a leadership team of 13 4th-graders, was inspired to help the homeless in their own city of Fitchburg. They understand that people who are homeless need help and discovered in their research that one-quarter of all homeless people are children. They are holding a supply drive at their school for food, hygiene products and games, collecting 500 items that they will donate to Our Father's House in Fitchburg.
2018 – 2019
Mini Venture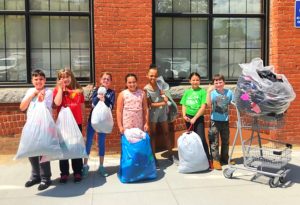 A leadership team of fourth-grade South Street elementary students determined that too many members of their community face homelessness and poverty, and especially suffer during the cold winter months. They launched a school-wide project to raise money and collect winter gear that will be donated to MOC's Family Resource Center in April. In addition to making a difference in their community, these students bravely took on leadership roles where they previously had been fearful to do so. This has been a joyful and triumphant experience for these young Changemakers!