2007
Environmental Crew
This team hosted an All-City Clean-up Day on April 21st in Gardner.  The team organized over 100 volunteers, both young and old, to help with the clean-up efforts.  The event was also registered as a National & Global Youth Service Day, among thousands of youth-led events across the country and the globe.   The team plans to hold additional environmental awareness activities throughout the year.
Senior Citizen's Senior Prom, Gardner High School
In an effort to strengthen the bond between the older and younger generations in Gardner, this Venture Team has planned a "Senior Citizen's Senior Prom".  The Senior Citizen's Senior Prom is a "prom" for the senior citizens of our community, held the evening of May 10th at Gardner High School.  A time for nostalgia, the event gives them the chance to bond with a number of students at the high school and with other fellow senior citizens, and dance to the music they remember.
2017
Gardner Community Garden
Tired of eating the less-than-healthy food offered to students at their school and around the community, this team of Venturers decided it was time to bring in a new source of healthy alternatives. To do this, the team has reached out to local businesses and nonprofits to help work together to build a new community garden right at Gardner High School. The students hope to use the grown vegetables and fruits to not only feed the students during the day but to also allow low-income students to take home these foods to ensure they have something to eat.
2018
GHS Vegan Outreachers
GHS Vegan Outreachers are passionate about creating a movement that educates their classmates about the benefits of Veganism and Vegetarianism. In collaboration with the school food service staff, the Venture Team provides insight to make teen-friendly changes to their current school menu in order to offer healthier Vegan and Vegetarian options. They offer taste tests throughout the year to help fellow students learn about and try the benefits of Vegan food options.
FACS: Family and Consumer Science
These Venturers wanted more out of their high school curriculum beyond the normal required classes. They feel strongly about the importance of learning skills such as cooking, budgeting, check writing and changing tires. So these young folks started a club to learn these skills because they see the importance of them in the future. They fundraise to generate income to purchase cooking supplies as well as resources to keep the club progressing.
2019
Esperanza Helping Hands
The Spanish word Esperanza means hope and that is exactly what the latest Gardner High School Youth Venture team Esperanza is bringing to area homeless and foster children. They are partnered with Our Father's House to donate items based on their needs list. They also help area foster children. This team understands that foster kids are often transferred without notice and often don't have even the basic of necessities to take with them. They fill duffel bags with food, clothing and hygiene products so they not only have the necessities they need but a proper bag of their own. This is a sustainable venture that also partners with other area organizations to donate items during the holidays.
You Will Be Found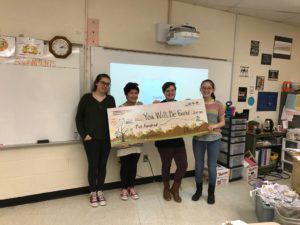 You Will Be Found is a Gardner High School Youth Venture team that created a student lounge within the school. This is a safe space for students to relax and unwind from the stresses of being a teenager. Teen depression and mental illness in their community motivated this team to take action in creating this peer to peer space. By partnering with the Gay Straight Alliance, the team encourages the inclusion and acceptance of LGBTQ+ students and promotes this lounge as a welcoming environment for all to feel accepted.
Rays of Sunshine
Rays of Sunshine is a GHS team that goes to Gardner area nursing homes to visit, dine with and participate in activities with the residents. This team wishes to be the rays of sunshine to the elderly residents by allowing them to see a smiling face. They have first connected with Wachusett Manor to visit with residents there.