Teams Launched to Date:
2001 – 2002
Leadership Venture
Seeing a need for more leadership opportunities at Leominster High, this venture Team creates and holds "Leadership Workshops" for school leaders.
2002 – 2003
Operation Photojournalism
This Venture Team creatively uses photos to publish school and community news in the school newspaper.
Project Launch Pad
This Venture team creates a newsletter for 8th grade students to help them have a smooth experience from middle school to high school. Project Launch Pad members also visit all 8th grade classrooms to hold discussions and question and answer sessions with the students.
Tech Awareness Venture
These Venturers take pictures and create videos of school and community events that are then showcased on the local cable station.
2004 – 2005
Community Outreach Mural Project (C.O.M.P.)
Using their magnificent talents in graphic design and art, this Venture Team paints murals for display at community events, as well as in the pediatrics wing of the local hospital.
Nature's Den
This Venture Team has designed and created an outdoor classroom for the Leominster High School community. The classroom includes an amphitheatre, benches, landscaping and original mosaic murals. Nature's Den hosts events for the arts, music and theatre students, and for all of the community to enjoy.
Students Taking Action in Massachusetts Politics (S.T.A.M.P.)
This Venture Team works to create awareness and promote youth activism at the local and state level.
2005 – 2006
Giving Back to the Community
This Venture creates a fun and safe outdoor sporting event for the special needs students in Leominster Public Schools.
2006 – 2007
Traveling Through the World
The diverse team members from Honduras, Brazil and Dominican Republic provide the many culturally diverse students in their school the opportunity to learn about different cultural traditions through after school activities involving dance, food and sport. Students who participate can learn dances such as the Samba and the Forro, sample foods from different countries, and can play soccer in the fall. The team also holds a student and parent social in May to celebrate cultural diversity with their families and friends.
Leominster Advocates for Nature's Den (L.A.N.D.)
This team is made up of talented music students at the high school who want to further enhance the unique outdoor learning space of Nature's Den classroom into an outdoor auditorium for band concerts and community events. They hold a wide variety of events in Nature's Den auditorium including school committee meetings, benefit concerts, art exhibits, school barbeques, and student advisory meetings.
2008 – 2009
Teen Reach
The students within Teen Reach run leadership conferences. There first conference was based on the book 7 Habits of Highly Effective Teens, and opened up a leadership club for the students that were in attendance.
Devil Pups
These venturers created an organization focused on giving the younger Leominster population the opportunities to explore the robotics industry.
Arts for Random Kindness
Arts for Random Kindness, the first venture out of the CTE program at Leominster High School, hopes to create positive change by painting murals and offering free-of-cost marketing services for small businesses and other ventures.
Our Family To Yours (OFTY), (Upward Bound Program through Leominster School District )
Coming out of the Upward Bound program, OFTY hopes to donate backpacks and school supplies to needy families within the middle and elementary schools around North Central Massachusetts. By doing this they hope to reduce stress of both families and students so that attending school is a better experience.
2009 – 2010
SADD Members Involved in Lifestyle Education (S.M.I.L.E.)
The Venture Team SMILE was started by four girls of the popular persuasion at Leominster High School, who felt strongly about making good life decisions. With hopes to re-ignite the SADD group at their school while also promoting this positive lifestyle choices, such as not texting or calling while driving they have distributed more than 100 agreements to students and parents hoping to facilitate better communication. They also plan to hold an annual prom dress fashion show where they will give away collected prom dresses and speak on positive lifestyle choices for prom.
Nature's Yard, Leominster High School and Fallbrook Elementary School
This idea was the brain child of 1st graders in Ms. Faris' first grade class, at Fallbrook Elementary School in Leominster, who felt that the area behind the school where portable classrooms had been taken down was unsatisfactory and unsafe. It was soon a task that was taken on by two high school students, who volunteer in the school, to help all of the students be able to clean up the area, and create a nature yard where all students can go to learn. Students created books and posters of what the yard would look like and the official blueprints were written by one of the participating 1st grade students. To fundraise to make sure this yard is kept up each year students will sell handmade bookmarks, and have a book drive.
2010 – 2011
United We Stand for All
This Venture team would like to help many organizations throughout the Leominster community as well as inspire their peers and members of their community to collaborate with their Venture, volunteering with them! Some of the volunteer activities they are involved in include, serving breakfast every Saturday at the Pilgrim Congregational Church, through the Daily Bread program (leftover food is donated to Ginny's Thrift Shop and Food Pantry), helping a school-based program called "GIVE", by volunteering at various events throughout Leominster High School, and last, but certainly not least, supporting Ginny's Thrift Shop & Food Pantry by volunteering at her fundraisers, including her annual yard sale, pancake breakfast, and food drive.
Life Skillz 101
A group of Venturers decided that they wanted to show support for their fellow peers in the special education program by spreading awareness of the Life Skills program to the students of Leominster High School, as well as the the community of Leominster. This program is designed to assist special needs students in developing essential "life skills", including but not limited to, cooking, cleaning, working, and academic competentcies. As a whole, the Life Skills program helps prepare its students with their future transition from school to the "real world." Moreover, the Life Skillz 101 United Way Youth Venture team is purchasing T-shirts to fundraise for this program as well as constructing phamplets to inform their school and community of how they can support the Life Skills program, and ultimately, the special needs students who attend Leominster High School.
2011 – 2012
Mama Africa
Mama Africa aims to eliminate starvation and hunger that is widespread throughout Africa. Mama Africa reaches out to those who are less fortunate in order to cure the disparity these people face. First, the Venture aims to be innovative in order to help those that are impoverished in Africa. So with this in mind, the goal is to create gardens throughout each community, and people can plant fruits and vegetables in the garden to supply themselves and their family with fresh food. Also, The major aspect of Mama Africa's mission is to establish tuck shops, which are community stores located within each town. These tuck shops are imperative for the mission to succeed – they will provide an adequate amount of food for those that are need.
Friends of Rachel's Challenge
This Venture plans to encourage the end of bullying throughout the entire community of Leominster. In accordance with this goal, member of this Venture want kids to feel comfortable in their own skin and to enjoy all of their adolescence without harsh bullying. To achieve this, Venturers aim to create fun and informative workshops for middle school students and 9th graders.
2012 – 2013
LEAD (Let's Empower, Advocate and Do!)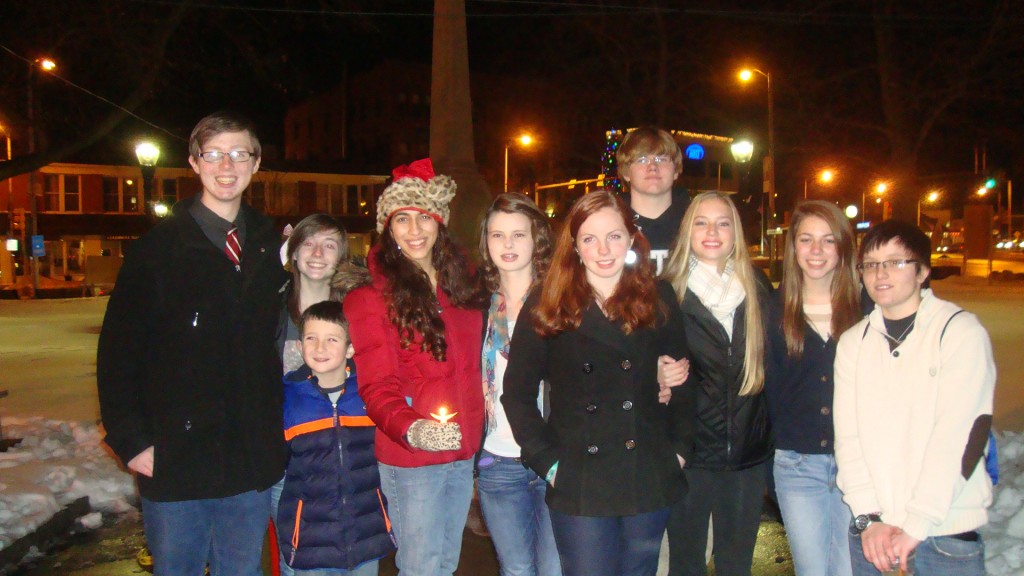 It's nearly impossible to find someone not affected by the tragedy that shook Sandy Hook Elementary School in Newtown, CT. Members of LEAD were no exception, and wanted to do everything in their power to educate the public about the mass shooting that occurred in December of 2012. The team's solution was to host 26 Angels, a fundraising event that aimed to raise awareness of more than just the horrific event in CT, but also delve deeper into other issues, including mental illness, gun control, school security and thoughts on how to prevent future gun-related tragedies. The team's event featured 26 guest speakers from the local community, including U.S. Rep. James P. McGovern, Leominster Mayor, Dean Mazzarella and Fitchburg Mayor, Lisa Wong, Leominster native Miss Massachusetts Sarah Kidd, Leominster Police Chief Robert Healey, Kandace Coe, president of the National Alliance on Mental Illness North Central Massachusetts Inc., and Angus McQuilken, one of the principal organizers of the newly-formed Massachusetts Coalition to Prevent Gun Violence and a board member of States United to Prevent Gun Violence.
LHS Football
Players of the Leominster High School football team brought up a valid point when they asked their coach, "How are we supposed to learn from past mistakes if we can't see what we did wrong?" It was this problem that inspired the LHS team to start a Venture to purchase video equipment as a way to record practice and actual games and get a visual representation of their playing techniques. In addition to taking notes and criticism on their form players, family and friends will be able to purchase DVDs of past games, with proceeds going toward new video and football equipment for the team.
Teens Helping Teens
Jeans too big, too small? Teens helping teens would love for you to donate to their cause. This team is determined to collect gently worn or new jeans for those students and children who are unable to buy their own. Collection boxes will be located in the guidance office of the high school and sporadically placed throughout the community. With the help of their peers, a pair of jeans can be donated to those who need them most.
2013 – 2014
STRIDE
STRIDE is group of determined students who are committed to gathering support for the LGBTQ community throughout their school and Leominster. As they raise awareness, the Venture Team also plans to fundraise to support the Waltham House, which provides safe housing and counseling for LGBTQ youth who have met mental and physical abuse for their sexual orientation.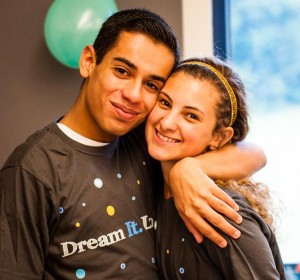 Go Make A Difference!
Inspired by a presentation on homelessness and the need for volunteers in the earthquake-stricken country of Haiti, the students of GO Make a Difference created their Venture as a way to battle the homeless issue both locally and abroad. Through their efforts, these Venturers will be raising funds to help feed the homeless in Leominster as well as throw birthday parties for those children who would otherwise miss out on the joy of having a birthday celebration. The team also plans to support local efforts to provide affordable homes for families in need by volunteering with Habitat for Humanity. Through this journey of giving back locally, the team hopes to raise enough money to eventually travel to Haiti for a service trip, putting their local experience to use.
The Devil's Advocate
The Devils Advocate of LHS is determined to enlighten the LHS student body by bringing back the school newspaper. As a result of their diligent reporting, their school peers and community readers will be better informed about all that's happening around them and be driven to do their part for the school and community!
2014 – 2015
Protecting Law Enforcement and Youth (PLAY)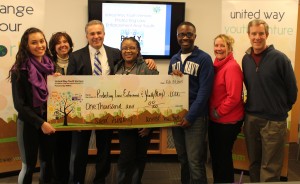 After seeing all of the recent stories on the problems between police and minority relations, the members of PLAY took an innovative step to ensure that nothing like that happens in North Central Massachusetts. In a two-fold effort, this Venture has taken on the mission to both educate youth on the best practices when encountering police as well as increase the lines of communication between the youth of the community and the local police through various events.
The Children's Education Fund
The Children's Education Fund is transforming the meaning of educational scholarships. This spirited group has created a scholarship designed for current or past foster youth, a population that consistently has trouble getting into higher education due to lack of finances. Through the use of mentoring, tutoring, and financial scholarships, this group is committed to helping foster students continue their education past high school.
2015 – 2016
Peer Initiated Tutoring (PIT)
Inspired by their own personal growth as students through the help of their peers, the boys of Peer Initiated Tutoring decided it was about time that there was a formal tutoring program at Leominster High School. This team believes that not only will their Venture help many students begin to pass classes in which they previously struggled, but that this program will strengthen the feeling of community in the school bringing together students who rarely have class together. They hope to grow the program to become a cornerstone of the school in the coming years.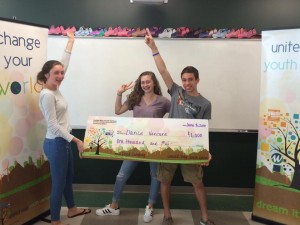 Dance Venture
Feeling excluded and not understanding why Leominster High School didn't host any dances for underclassmen (only Junior and Senior proms), some first year LHS students decided to form a Dance Venture to be able to encourage school administration to allow them to hold dances for Freshmen and Sophomores. This Venture Team hosts a Freshmen Fall Dance and a Sophomore Snow Ball, so that all LHS students can participate in and enjoy a fun night with their classmates.
Black Heritage Club
Already being a part of an established and successful group at Leominster High School, members of the Black Heritage Club decided to grow even more. They wanted to turn their club into a Venture so they could continue doing what they have already doing so successfully – yet, on a larger scale. This Team hosts a very popular and well-attended annual Black Heritage Gala each February to commemorate Black History Month. They also hand-create and sell traditional African jewelry, T-shirts and other items to help sustain their Venture, and to celebrate and bring awareness to their culture and heritage.
2016 – 2017
Challenge Day
These two sisters participated in the first Challenge Day (ChallengeDay.org), a program that "Transforms through Compassion", at LHS. They were excited and moved by what they experienced, and they want more students to have that same experience by bringing back Challenge Day to their school year after year. They are fundraising and seeking sponsors and donations to be able to invest in making Challenge Day an annual event.
Culture, Communication, Connections
This Venture Team of 'international' ESL students are eager to give back. They remember the difficulty in learning the culture and language here and they hope to make it easier for others. They translate for school parent-teacher conferences, open houses, orientation days, and more. In addition, they visit libraries to read to and mentor younger students.
2017 – 2018
Operation American Hero
Inspired by their own family military history and others who fought for the United States, Team Operation American Hero is committed to helping local veterans. They have created a clothing and hat line with American pride slogans and they sell these to raise money to support veterans through organizations such as Leominster Veterans' Services. They do additional fundraising by hosting a paper lantern veterans memorial event and an antique car show.
2019 – 2020
Books over Bullets
This team of middle and high school students want to create "Safety Buckets" for Leominster High School and Sky View Middle School. The buckets would include items a classroom would need in the event of an active shooter. The buckets would include a door stop, water, granola bars, hammer, toilet seat and other items that students would need if they needed to shelter in place for a long period of time. The students are planning on working with area businesses to get as many items donated as possible.