This year, delivering the UWYV message to students at Mount Wachusett Community College ("MWCC") involved putting a slightly different spin on the "everyone is a changemaker" mantra. Through workshops catered specifically to the college-aged audience and beyond, MWCC students learned in-depth definitions of social entrepreneurship and service learning, and how those concepts could directly complement their coursework at the college. Young people ranging from first-year students to high-schoolers in dual-enrollment courses participated in the workshops; each population provided valuable insight on what would constitute a truly successful UWYV experience for a nontraditional student. The one team to launch out of MWCC this year focused on a broader community, the city of Fitchburg, with hopes of addressing the ever-present bullying pandemic on school grounds.
Teams Launched to Date:
2011-2012
Water to the People
Bottled water not only is overpriced but also has numerous negative environmental impacts. Water to the People!, which formed from a college club called the Green Society, would like to discourage the use of these devastating plastic waste products, installing a reusable water bottle fill station at the Mount Wachusett Community College. This water bottle fill station will offer the student body an alternative to buying bottled water as well as promote the use of reusable water bottles. In the future, Water to the People! plans to hold an annual reusable water bottle fundraiser as well as actively participate in the Green Society's fundraisers, such as their annual Earth Day Celebration, and Spring/Fall plant sales.
2012-2013
Carry On Don't Ever Stop (C.O.D.E.S.)
Members of C.O.D.E.S understand the pain and suffering that bullied children face every day. As past bullying victims themselves, they felt compelled to create a program in their school district that would help put an end to the senseless violence and emotional trauma that goes unnoticed in many social circles and in school. In order to do this, the Venturers have created a series of workshops and team building exercises that they deliver to groups of students who have been bullied. The workshops aim to help each young person cope with their experiences and to also build their confidence as individuals moving forward. The group plans to create an anonymous email hotline for bullied students, as well as raise funds for a scholarship that they hope to award to a graduating senior who has fought through adversity and will be going to college.
2014-2015
Learning Beyond The Classroom
As they came to the end of their time at MWCC, the students of Learning Beyond the Classroom wanted to give back to the many professors who helped them progress on their journey to a more successful future. After seeing the tiny, messy and worn-down faculty lounge that all of the adjunct faculty share, the students decided to work with the MWCC staff to help redesign the lounge to better support the faculty. Not only will the adjunct professors now have a better space to work in, but they will be able to better support the students through their class needs.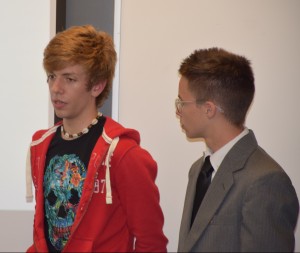 STEM Starters' STEM Fair
What started as an academic group of 23 college students participating in MWCC's STEM Starter Academy resulted in a Venture project aimed to help change the future of STEM (science, technology, engineering, and math) education in North Central Massachusetts. Fueled by a love of the STEM fields, their goal is to bring a STEM-themed fair to a local middle as a means to promote STEM fields as future career paths in a fun and educational way in hopes that the younger students will return to the classroom with a new-found excitement to learn.
Team MAP (Mentor Assistantship Program)
Remembering what it felt like to be a brand new freshman in college and how stressful and confusing a time it can be, the members of Team MAP decided to take action to help future students by creating the MAP program. This program would create a peer to peer mentoring program that is similar to the RA program at 4-year colleges, to help incoming students have someone they can look to for support who can relate to their concerns. This program, which would connect ten incoming students to one mentor, would help improve retention and the feeling of community at MWCC.
Tournament for Troops
Inspired by the service and sacrifice that the members of the military make for their country, the members of Tournament for Troops have taken it upon themselves to better help the Veterans at MWCC by providing them with free laptops to help with their education. The team will be raising the money for this program by hosting an annual hockey tournament that will face Veterans and their family members from here in North Central Massachusetts against the alumni members of the Boston Bruins.
2015-2016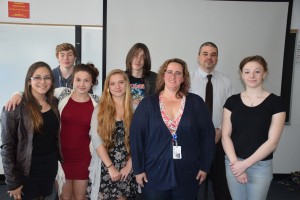 Mountain Lions Carpooling
Working through their Freshman Year Experience class, the members of Mountain Lions Carpooling decided that the best way that they could give back to the MWCC community is to help make a difference for all those who depend upon public transportation at the college. In order to take a stand on the issue, these students created a very interesting new event at the college called the MWCC Student Transportation Summit. This event not only gave the students a chance to meet with a member of the MART staff and discuss their issues but also work to raise money and support for greater public transportation and carpooling efforts at MWCC. The proceeds from their event will pay for gas cards for students who carpool and they will be working with Student Services to create carpooling spots in the MWCC parking lot.
Student Bus Rider Organization
As students who rely upon the MART system as the primary means to get to their classes at MWCC, it is of utmost importance for these students to ensure that the system gets as much support as possible to maintain consistent service throughout the school year. Through their Venture, these students hope to create a public transportation advocacy group which can help lobby local and state government officials for greater funding as well as work with MART to implement new solutions that will ease the issues student commuters face.
2016-2017
Mountain Lions Carpooling 2
Inspired by the program started by their peers in the previous year, these students wanted to take a more impactful step towards creating MWCC to have an environmentally-friendly atmosphere. These students took it upon themselves to work with various departments within the college to try and put together an official MWCC policy on carpooling that will address the need for new carpool parking and additional enforcement requirements.
Project 84
In order to help reduce the number of youth who are have become addicted to smoking in the North Central Massachusetts community, these students are teaming up with the state nonprofit, Project 84. This program creates charters of teen-led programs across the state to engage students to educate their peers on the danger of addiction and learn how they can advocate for anti-smoking policies with their elected officials. They hope to be mentors and advocates for younger students across the region
Multi-Cultural Conference
As students from diverse backgrounds who have encountered numerous challenges due to others not understanding their cultures or being ignorant to the struggles they face. To try and remedy this situation, the students of this Venture decided to host a Multi-Cultural Conference as a means to raise greater awareness to the backgrounds of diverse cultures and hold an in-depth conversation between those of all different backgrounds to help others have a better understanding of the challenges many minorities face on a daily level and how they can better raise awareness in their own lives.
2017-2018
Pennies 4 Pawz
Pennies 4 Pawz is a Venture Team committed to improving the lives of dogs at the Gardner Animal Shelter. They raise funds to purchase and install pet-safe turf to replace the outside area of rocks. The rocks can be painful and damaging to the dogs' paws, nails, and health. The Team makes homemade dog treats and partner with several local stores to sell these treats as a way to raise money and awareness. They also bring puppies and kittens to area schools as a way for students to relieve stress before finals, with an opportunity to get pictures taken with these animals.
Mountain Lions Basketball Club
Recognizing how expensive it is for youth to play AAU basketball, while at the same time understanding how summer activities help in drug prevention, the two Venturers from MWCC raise money to help lower the cost of participating on a competitive AAU basketball team for at-risk youth and/or youth that could otherwise be unable to pay the team fee. In addition, they educate students on drug prevention in coordination with Alyssa's Place in Gardner.