At this time, Mount Fitness remains closed. We are continuing to follow the Governor's State of Emergency Declaration in an effort to prevent the spread of COVID-19. It would be irresponsible of us to open our doors, even for small groups. You can still take advantage of our Group Exercise content by going to www.Mossamove.net and registering for a free account. Management will continue to monitor the situation and we will open our doors back up when it is safe to do so. Please take care and stay safe! 
We miss all of you!
Mount Fitness Aquatics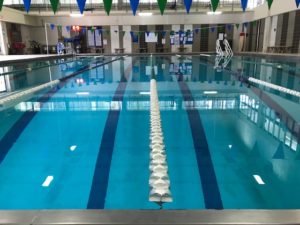 The vision of Mount Fitness Aquatics is to teach, train and encourage people of all ages to reach their full potential in the water. Whether it is learning to swim, lap swimming, swim competition, aqua classes or playing with your family. We have a beautiful 6 lane 25 yard pool. We provide a safe learning environment for all ages while seeking optimal health. We do this through many avenues, please look through all we have to offer!
Other Pool Programs: