IMPORTANT NOTICE: Check this space frequently for current information about Theatre at the Mount auditions. To receive audition notices by email, click the "Join our Mailing List" button in the sidebar at any time.
Audition Tip
Save time when you arrive at auditions! Print and complete our AUDITION FORM in advance. If possible, print your completed form on colored paper – pink for females and blue for males.
___________________________________________________________________________________________________________________
AUDITIONS: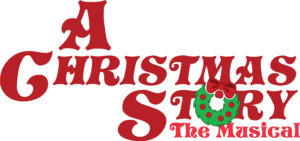 Bespectacled Ralphie Parker schemes his way toward the holiday gift of his dreams, an official Red Ryder Carbine-Action 200-Shot Range Model Air Rifle ("You'll shoot your eye out kid!") An infamous leg lamp, outrageous pink bunny pajamas, a maniacal department store Santa, and a triple-dog-dare to lick a freezing flagpole are just a few of the distractions that stand between Ralphie and his Christmas wish. Based on the perennial holiday move favorite, this show will absolutely put you "in the spirit!"
Director – David Allen Prescott
Music Director – Bob Healy
Choreographer – Kim Soel
CAST REQUIREMENTS – seeking a large, diverse cast of 3 adult men; 2 adult women and many supporting roles; 5 boys and children's ensemble of girls and boys (ages 8 to 14)
Where? Mount Wachusett Community College, room 182
When?  Children's auditions – Sunday, September 8 at 2:00PM sharp; Teen and Adult auditions – Sunday, September 8 at 5PM sharp and Monday, September 9 at 7:00PM sharp* (no appointment needed)
*Punctuality will be noted and appreciated
Performance Dates:  November 29, 30, December 6, 7 at 8:00PM; December 1, 7, 8 at 2PM
Tentative Rehearsal Schedule: Sundays from 6:00PM to 9:00PM Tuesdays and Thursdays from 7:00PM to 10:00PM. Rehearsals begin September 15.
WHAT TO EXPECT
ADULTS, TEENS and CHILDREN: Everyone should prepare a short singing selection – (accompanist provided). Dancers will be taught a short dance combination (please wear appropriate clothing and footwear – tappers should bring tap shoes); cold-readings from the script for key roles
 CHARACTER DESCRIPTIONS
JEAN SHEPERD/NARRATOR (late 40's to early 50's) – Charismatic storyteller with a dynamic speaking voice who can draw an audience into the world of the play. Radio personality. He (like his younger self) has a twinkle in his eye. An actor with presence and spark. A good-natured curmudgeon. Midwestern, This is a non-singing role.
THE OLD MAN (late 30's to 40's) – He has a good heart, bit it is buried under a rough exterior. He is not the perfect father by any means – he is happiest when he is tinkering in the basement. He usually expects the worst, but is secretly a dreamer. A devoted husband/father, who loves his family but, does not feel the need to show it. Actor must be comfortable working with kids. High Baritone or tenor to a high G.
MOTHER (30's to 40's) – she is more in charge than she would ever let anyone know. Warm but tough. Strong willed, straight forward, no nonsense, likeable, Midwestern – a kind of every-mom. Contemporary mezzo with a strong mix. Mezzo-soprano lo G to high Db.
RALPHIE (9 to 12) – A regular kid – cute but not overly handsome, not precious. He would not be lost in a crowd, but he wouldn't stand out either. Bright, but not precocious; the boy next door. Ralphie above all is a dreamer. Seeking a young boy who is comfortable and honest on stage. Must be an excellent singer and able to carry a show. Tap dance is a big plus. High belter, low F# to high D.
RANDY (8 to 9) – Ralphie's younger brother. Can be a bit awkward and offbeat; admires his big brother, Ralphie, but won't admit it. Seeking a young boy who is comfortable and honest on stage, cute, cuddly, and whiny but not a brat. Must be able to tap. High belter, low F# to high C#.
MISS SHIELDS (mid 20's to 40's) – she is Ralphie's elementary school teacher. Perhaps a little boring looking at first, ah but underneath! Great with comedy. Character woman. An actress with a flexible voice who is comfortable singing both legit and contemporary Broadway – a belter. Great mover and a strong tapper.  Alto belter.
SCUT FARCUS (12 to 14) – Must be 5' of shorter. The classic bully; tough, perhaps taller than the other kids; there is nothing about him you want to like. He is that kid you always made sure to avoid in school. Gruff character voice. Must be able to tap.
GROVER DILL (8 – 12) Farcus' toady, smaller.
SANTA (30's to 60's) – Ill-tempered, inebriated, unhappy with his job. Tenor.
TAP SPECIALTY BOY (8 – 14) – Strong tap dancer – performs a featured tap solo.
ADULT ENSEMBLE (Elves, Delivery Men, Townspeople, Villain, Bank robbers, Escape Prisoner, Mrs. Schwartz, Flick's Mom, Nancy's Mother, Bartender, Policeman, Firemen, Doctor, Nurse, Waiter, etc.) All adults need to sing and be comfortable with some dancing. Strong dancers also needed.
CHILDREN'S ENSEMBLE (Schwartz, Flick, Esther Jane, Mary Beth, Nancy, Goggles Kid, Can-Can Girls, Can-Can Girlfriend, Waiter's Daughter and others) All kids need to sing and dance (tapping experience is a plus)
For more information contact Professor Gail Steele at 978 630-9162 or at g_steele@mwcc.mass.edu